:::. COMPANY PROFILE .::::::
---
Company Name :
Dowin Real Estate Agency
Company No# :
E(2)0157
Person Incharge :
P.L.Chai
Designation :
Tel# :
07-3861988
HP# :
012-7103999
Fax# :
07-3863233
Website :
http://dowin.com.my
Email :
enquiry@dowin.com.my
Address :
7-01, Jalan Permas 10/1
Bandar Baru Permas Jaya
81750 Johor Bahru
Johor, Malaysia
Company Description
ABOUT US


OUR PHILOSOPHY
Being a committed and responsible real estate agency, we always serve our customer needs as our priority.

OUR MISSION
By properly organized extensive and intensive in-house training, our sale and marketing team is fully equipped and prepared for all challenges. With our experienced and professional sale and marketing team, our client needs and satisfaction will be ensured.

COMPANY PROFILE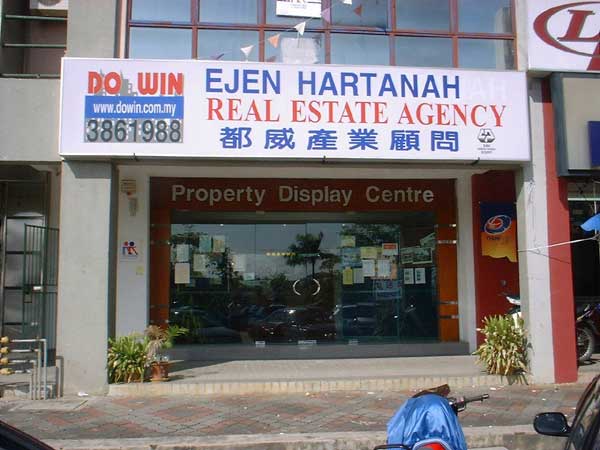 DOWIN Real Estate Agency E(2)0157 was established in 1995. The partners of the Firm are Mr Richard Shai (the Founder) and Mr Tang Soon Keat. Both of them have been actively involved in the Malaysian real estate field since 1992. Our first office which is headed by Mr Richard Shai was opened in Johor Bahru to serve mainly the Johor and Singapore clients. Under Mr. Richard's guidance, Dowin Real Estate Agency is now very well established and well-known in the Johor Bahru real estate field. In order to serve our customers better, we have recently extended our services to cover the Klang Valley (Kuala Lumpur and Selangor)areas with the opening of our office in Taman Desa, which is headed by Tang Soon Keat.

Both the Partners of Dowin Real Estate Agency graduated from the University Technology Of Malaysia with Honors Degrees in Property Management. They are also qualified valuers and Registered Estate Agents under the Board of Valuers, Appraisers and Estate Agents, Malaysia.

Dowin Real Estate Agency has been appointed to handle and market several large-scale projects such as the Taman Bayu Puteri 1, Taman Johor Light Industrial Factories, Taman Gembira, Century Villa at Johor Bahru and Vista Millennium at Kuala Lumpur. In addition, Dowin Real Estate Agency is also appointed by Pengurusan Danaharta Nasional Berhad into their Panel Of Real Estate Agents.

Dowin Real Estate Agency provides a wide variety of real estate services such as selling and leasing of all types of properties, consultation for property development projects, property management services as well as assessment and analysis of investment portfolio.
In addition to the traditional consulting services offered, Dowin provide various type of services to cater our different groups and categories of customer, including:

1. Real Estate Agency
2. Property Development, Planning & Marketing Consultant
3. Property Management
4. Property Investment Portfolio Assessment

1.Real Estate Agency

We provide selling and leasing services for all type of properties, i.e. residential, industrial, land and commercial.

2. Project Development, Planning & Marketing Consultant

We provide consultation services for property development project. Our service will begin from initial, i.e. planning stage until the final stage i.e. marketing stage. We will propose the property types, design and pricing, base on the market demand, supply and future trends. In the marketing stage, we will propose the most effective marketing strategic that should be adopted.

3. Property Management

We provide property management services such as maintenance, renting services and rental management. Owner will save from hassle and valuable time by dedicate the job to our experienced management team. We will attend the complaints from the tenant and submit a report to the landlord for the maintenance job need to be carried out.

4. Property Investment Portfolio Assessment

We will assess and analyze our client investment portfolio in order to maintain the best and potential investment.